Thermal Imaging Camera Training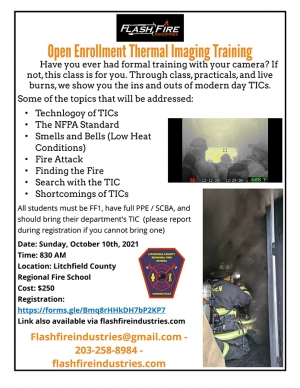 In partnership with the Litchfield County Fire School, Flash Fire and CT Custom Fire are running an open enrollment signature Thermal Imaging Camera Training Hands On Training Course.
Have you ever had formal training with your camera? If not, this class is for you. Through class, practicals, and live burns, we show you the ins and outs of modern day TICs. Some of the topics that will be addressed: - Technology of TICs - The NFPA Standard - Smells and Bells (Low Heat Conditions) - Fire Attack - Finding the Fire - Search with the TIC - Shortcomings of TICs The classroom will be followed by practical evolutions involving both live fire and non-live fire.Exact make-up of the class will be determined by the number of students and number of TICs available. This is also an excellent opportunity to demo TICs for potential purchase.
I understand that I must be FF1, and bring my own full PPE, SCBA, a spare cylinder, and their Department's Thermal Imaging Camera. Please report during registration if you cannot bring one).
Date: Saturday October 10, 2021
Time: 8:30am - 4:30pm
Location: Litchfield County Fire School
606 Burr Mt. Road
Torrington CT, 06790
Cost: $250
Capacity: 24 Students (Waiting List Enabled for Cancellations)
If you have any further questions, please free to contact us at This email address is being protected from spambots. You need JavaScript enabled to view it. or 203-258-8984