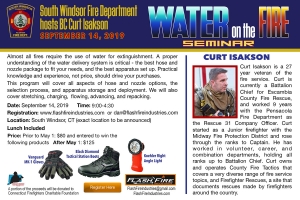 LUNCH IS INCLUDED
WATER ON THE FIRE
Almost all fires require the use of water for extinguishment. There are so many options when
it comes to hose and nozzle packages, that a complete and proper understanding of the water delivery system is critical. Once you have selected the best hose and nozzle package to fit your needs, you must now come up with the best set up for your apparatus. Practical knowledge and experience, not price, should be the driving factor for your next hose and nozzle purchase. Remember, as the first line goes, so goes the fire.
This program will cover all aspects of hose and nozzle options, the selection process,
and best practices for storage and deployment on your apparatus. We will also cover stretching, charging, flowing, advancing, and repacking. An attack line of proper size and length must be stretched at all fires, but more importantly, it must be staffed for success. The size, length, deployment location, and staffing for the first line are the most critical things to consider when arriving at a working fire.